Quick and Easy Mudroom Storage Ideas
This post may contain affiliate links. Learn more
Does your entryway have shoes scattered across the floor? Do your kids drop their backpacks right in the middle of the floor? Are coats draped over chairs, railings and the back of the couch? If you answered yes to any of those questions, then you are in need of mudroom organization and new mudroom storage ideas that will actually work for your family.
The best part? You don't even need an actual room to organize your mudroom items. Most of these mudroom storage ideas will work whether you have a dedicated mudroom or just a tiny space at or near your entryway.
Mudroom Organization
When it comes to organizing the mudroom or entryway, you first need to declutter. Decluttering is actually the first step in any home organization project. But it's especially important in rooms like the mudroom, which can easily become the dumping grounds for everything that comes into the house.
Don't just ask yourself the decluttering questions to decide which items should stay or go. You also need to ask yourself if those items really belong in the mudroom. Mudroom storage should consist of items you come in the house with or leave with on a regular basis. AFTER you find room for all the essential items, then you can decide to store items that are non-essential room if you extra storage space.
I, unfortunately, know this from firsthand experience. We had a tiny mudroom in our last house. And it felt especially small with six people in my family. But, quite truthfully, I didn't organize it well. You'll notice I didn't say it wasn't organized, I said it wasn't organized well. It is possible to have an organized room that doesn't function well.
I had way too much non-essential stuff for such a small space. It was all stuff we needed to keep, just not in the mudroom. As I look back now, I think about how much more functional the mudroom could have been if I stored the light bulbs, batteries, flashlights and other items someplace other than the mudroom.
So, make sure you organize the essential items for the mudroom first. Then, you can use any leftover space to store other items.
Check out Organizing Tips for Any Room to find out the basic rules when organizing.
Essential Items for Mudroom Organization
You are probably wondering what qualifies as essential items for mudroom storage. As I mentioned above it's mainly the items that come and go from the house on a regular basis. It's going to look slightly different depending on your specific family needs but it generally consists of:
Keys
Shoes
Coats and winter gear like hats, scarves and gloves
Backpacks, work tote, diaper bag, purse
Possibly a mail sorter for all the different types of paper that comes into your house
What If You Don't Have a Mudroom?
To me, a mudroom is a dedicated room located at an entry point into the house. But there are a ton of houses that don't have a room solely for shoes, bags and coats, like my house. There are a lot of laundry room/mudroom combos or other multipurpose type rooms. Plenty of homes just have a closet near an entryway. Others that don't even have a closet. Or some are like our current house, that doesn't have a mudroom but it does have a little extra space in entryway near the door we come in and out of most often.
If you don't have a mudroom, space in the entryway or even a closet, then your best bet is to steal a little section of a room near the entryway. A little section of wall space or a corner is all you need to get the mudroom essentials organized.
Mudroom Storage Ideas
There are storage solutions no matter what type of mudroom or entryway you have. Check out these rooms and products for inspiration for your own home.
Entryway Storage Cabinets
Our entryway has a wider than normal hallway, which provides room for much-needed storage.
The storage cabinets are from Ikea's Pax system. I love this system because there are a lot of options to customize it to fit your needs. There are several options for colors, doors (or don't use a door at all), shelves, drawers, trays, bins, hooks and hardware.
We use the cabinets to store backpacks, my purse, winter gear (one drawer per person), and an activity bag I use to keep my younger kids entertained while we are at the older kids' activities. I also use the storage cabinets for other miscellaneous items since there is room leftover after I organized all the essential mudroom items.
If Pax storage cabinet doesn't fit your space, Ikea offers a lot of different other storage cabinet options that may suit your needs. Plus, I'll highlight some other non-Ikea options a little later (since not everyone lives near an Ikea store and there are other fabulous stores and products out there).
Storage Bench or Shelves?
We used to have a storage bench in between the cabinets. The bench fit perfectly between the cabinets and had a cushion on top. There were 3 standard cubbies and 3 very small cubbies. But the storage bench didn't suit my family's needs.
You could fit a decent amount of shoes in the larger cubbies but the shoes were all jumbled. And the small cubbies were basically useless for us. We could fit baby and toddler shoes but as my youngest kids started to get older it quickly became apparent their shoes weren't going to fit much longer. The bench area just became a dumping area for random stuff.
I'm not opposed to storage benches, this one just didn't function how I needed it to. The problem is we needed a storage solution to fit in between the two storage cabinets. Unfortunately, the distance between the storage cabinets didn't fit any shelves, racks or cabinets. They didn't even come close.
Instead, we opted for shelves from Ikea that we cut down to the size we needed. I've used the Ekby Jarpen shelves in two bathrooms, the basement and now in the entryway. The shelves come in a few different colors and sizes.
But they didn't come in the size I need. Fortunately, my husband could easily saw the shelves to the width we needed. The Ekby Bjarnum brackets concealed the rough edge we created from cutting the shelf.
Now, the shoes are neatly lined up on the shelves. And because the organization is more functional, the kids actually always put their shoes away without being asked to.
Paper Organization in the Entryway
I also have our family command center in our entryway. If you're wondering what a command center is or why you need one, check out Family Command Center Ideas to Organize Your Life to see how I created mine plus more ideas.
My command center is an important part of organizing papers. So even if you don't think you need a command center, consider using a system for dealing with incoming mail and other papers.
Key Holder Ideas
Are you always looking for your keys? Having a spot to hang keys immediately when you enter is a necessity. We have a basic key holder that serves its purpose.
There are more decorative key holders. These key holders would look great on a wall or mounted on a pieces of stained or painted wood.
And there are multipurpose key holders. I'll just caution you about the keyholders with one mail slot. That doesn't provide enough organization space to actually be useful. It will likely just collect stuff and not actually organize it. There are better combo options available, like the ones below.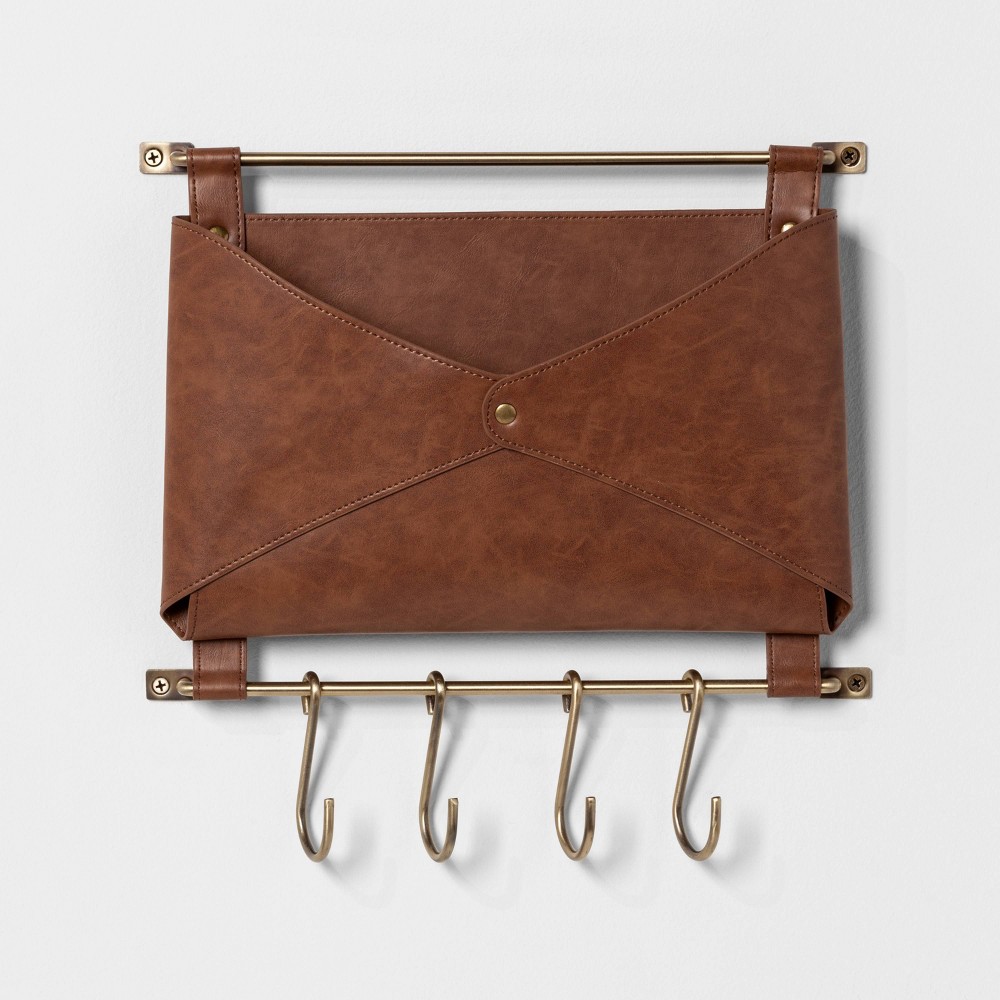 This key holder with shelf is perfect for someone to empty their pockets and store items like a wallet, a Swiss army knife or a little jar to hold pocket change.
Shoe Storage Ideas
There are a ton of different options for shoe storage. From the basic shoe rack to storage benches to over the door organizers.
Coats, Winter Gear and Backpack Storage Ideas
Hanging coats on hooks is absolutely the easiest option. No need to fiddle with a hanger, just toss your jacket on the hook. Hooks are also the perfect option to keep bookbags, purses and other types of bags off the mudroom floor.
Winter gear can get a little trickier because you need an option that is easy but also organized. The key is for each person to have their own basket, bin, drawer or whatever method you choose. Don't put everyone's winter gear into one container unless you want to dig for your hat every morning or constantly pick up mittens and scarves off the ground (because other family members were tossing them as they were looking for their own stuff).
Here are a few ideas for easy and functional ways to organize your winter gear.
In my house, each person has a drawer for winter gear in our entryway storage cabinets.
Two of the coat hook racks above have spaces for baskets or bins that could be used for winter gear.
An inexpensive option is the over the door organizer. It was originally designed for shoes but also works great to organize winter hats, scarves and gloves.
Organized 31 has a super simple storage solution for winter gear. Simply store them in plastic tubs and place them where your family can reach them.
All In One Mudroom Storage Ideas
Sometimes trying to piece together individual items can be hard. That's where all-in-one mudroom storage ideas come in. You don't need to worry if the colors match or if you can find a coordinating piece in the right measurements since it's all one piece or part of a system.
While this is actually two pieces, it's made by the same manufacturer so the colors match and the sizes coordinate. It comes in three colors – black, white and brown. The hooks are perfect for coats and backpacks or purses, the bins can be used for winter gear and the slots can hold a few pairs of shoes. You could even add small command hooks on the side for keys.
Prepac makes a lot of different entryway storage options in at least three colors. You can buy them individually or as a set. Mix and match them to organize your mudroom or entryway to suit your needs.
Storage lockers are all the rage for mudroom organization. Prepac makes a storage locker with shoe storage. While it's not as high of quality as Pottery Barn's locker, it's also a lot less expensive.
DIY Mudroom Storage Ideas
DIY can be the way to go if you are looking for specific colors, finishings and dimensions. My DIY skills are pretty limited but I found a couple of other sites that show just how easy (and affordable) DIY projects can be.
Leap of Faith Crafting made this beautiful farmhouse entryway organization wall.
One Creative Mommy made this gorgeous storage locker. Don't you just love the bright color she used?
While Bri from Half Pint Party Design didn't make this mudroom organizer herself, I could easily see how someone with a little DIY knowledge could make this.
Your Mudroom Organization
What are the challenges you face in your mudroom? Do you have any unique mudroom storage ideas? I'd love to hear from you. Comment below or contact me.